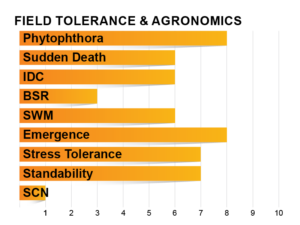 Height: Medium Tall
Plant Type: Medium+
Phytophthora Gene: RPS 1A+3A
SCN: SUS
VARIETY NOTES
Nice jump forward in performance! Phytophthora stack protects this bigger, taller plant and helps move your farm ahead with more yield punch. Fits in high and low-yielding environments well.

SCN susceptible.

Phytophthora tolerance is really a strength with this line. It fits in the good ground, but also the poorly drained phytophthora areas.

IDC tolerance is average, so avoid the hot spots. The yield punch this line carries justifies a position on your farm.

Highly recommend for western placement!