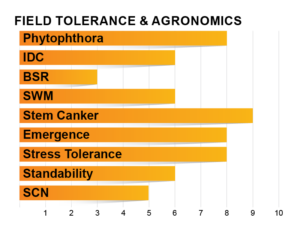 Height: Medium Tall
Plant Type: Medium
Phytophthora Gene: RPS 1A+3A
SCN: SUS
VARIETY NOTES
Yield upgrade at 0.3! Stacked resistance genes for excellent phytophthora protection.

Stress tolerance is strong. Handles light soils well.

Lack of SCN resistance gene is a watchout.

High-yielding soybean for use on non-SCN areas. Fits well on lighter soils and higher stress environments but loves your best ground for the top-end yields.