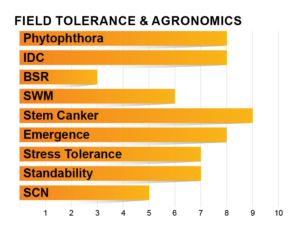 Height: Medium
Plant Type: Medium
Phytophthora Gene: RPS 1K+ HRPS 3A
SCN: SUS
VARIETY NOTES
Great IDC-tolerant bean with strong yields!

Top-notch defensive package with above-average stress tolerance and stacked gene phytophthora resistance.

Lack of SCN resistance gene is a watch out.

Powerful product for both yield and defense! Must avoid the SCN problem acres.

Broadacre fit for the super-productive ground as well as the stress acre.