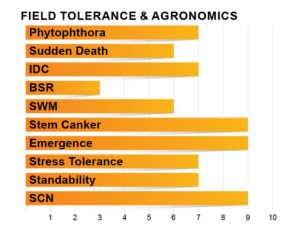 Height: Medium
Plant Type: Medium
Phytophthora Gene: NONE
SCN: PI 88.788
VARIETY NOTES
SALT EXCLUDER with yield! This bean fits on the salty acre and performs very well.

It also fits the salty ring around the top of an IDC pocket where salts rise in wet years and stick around for a while.

Very strong emergence.

Average IDC tolerance. This is NOT your best IDC bean, although it can do okay with in-furrow Soygreen added.

No phytophthora gene, but good field tolerance.