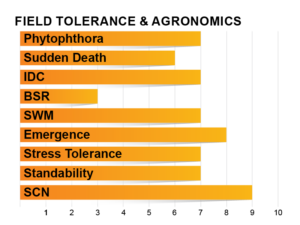 Height: Medium
Plant Type: Medium
Phytophthora Gene: NONE
SCN: PI 88.788
VARIETY NOTES
Powerful SALT EXCLUDER!

Yield justifies placement on your best ground. Standability is great and the plant type will lend itself to help fight against white mold.

Avoid slow-draining clay soils.

Excellent-yielding bean for broad acre placement. Prefers your best ground where it can crush the competition!

SCN resistance and good IDC and SWN tolerance round out the package.

You'll love the standability and consistency of this bean, so plant it where others can see. Push for top yields with intensive management practices.