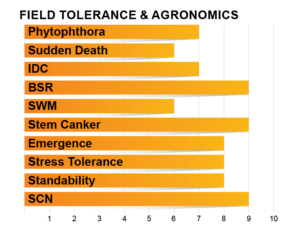 Height: Medium
Plant Type: Medium
Phytophthora Gene: NO GENE
SCN: PI 88.788
VARIETY NOTES
Stress tolerant variety for drought-prone acres with excellent standability and BSR resistance.

No gene for phytophthora resistance.

This is one tough bean! Fits best on the stress acre but not on the poorly-drained ground. Use a complete seed treatment.

This bean responds very well to both foliar fungicide at R2-R3 and added microbials at planting.