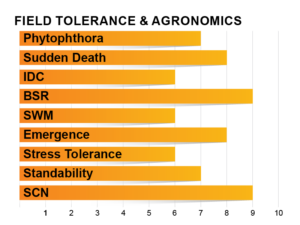 Height: Medium Tall
Plant Type: Medium
Phytophthora Gene: NONE
SCN: PI 88.788
VARIETY NOTES
Gorgeous bean with yields to match!

Strong standability with very good SDS tolerance. Taller bean that runs west well. Fits best on well-drained and productive land.

No phytophthora gene.

Average IDC tolerance.

Strong candidate for your good ground. Prefers well-drained soils that don't have a phytophthora or chlorosis problem.

Good bean to pair with Z1202E.