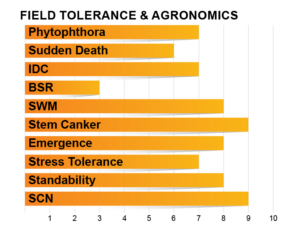 Height: Medium Tall
Plant Type: Medium
Phytophthora Gene: RPS 1K
SCN: PI 88.788
VARIETY NOTES
Big yields! Advanced white mold protection and standability make it a broad acre play.

Excellent stress tolerance, good IDC protection, and great PRR protection.

Brown stem rot susceptible.

Excellent choice for broad acre placement, as it has aggressive yield potential! Not the best choice for continuous soybean production unless BSR is not a concern.

Handles white mold very well, but still responds to CObra, Endura, and other white mold prevention measures. This is a bean to push with foliar fungicide, Naturals/beneficial microbes, and a complete seed treatment package.