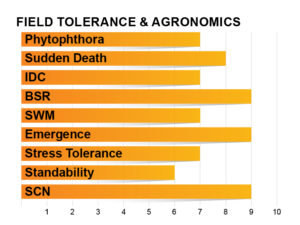 Height: Medium Tall
Plant Type: Medium
Phytophthora Gene: NONE
SCN: PI 88.788
VARIETY NOTES
Visual yielder with pods in the upper nodes! Standout defensive bean, as well, with BSR, stem canker, and SCN resistance with great SDS protection!

No gene for phytophthora, but good field tolerance.

In a stress-free environment, this will still likely be the top third of your beans for performance and should definitely find a spot into your crop plan.

Works well in the west, but really excels as you move east into MN, IA, and beyond.

Responds well to additional in-furrow fungicide if phytophthora help is needed.