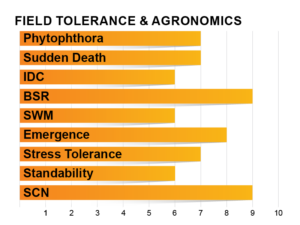 Height: Medium Tall
Plant Type: Medium
Phytophthora Gene: RPS 1K
SCN: PI 88.788
VARIETY NOTES
Tough bean with solid all-around package! Tough enough to handle variable planting populations and soil types. Loads its branches with pods.

BSR and SCN resistant. Strong tolerance to stress, phytophthora and SDS.

Not enough IDC tolerance for the hot spots.

Handles variable conditions better than most. Branches well, so if you lose some stand early, it's going to fill in well.

The defensive package is good enough to fit anywhere. Having fertilizer available later in the season is going to be one of the keys to maximize yield potential. Deep-placed fertilizer works well.