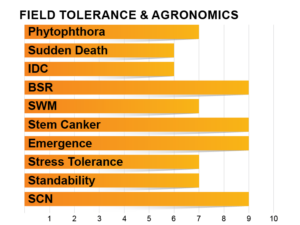 Height: Medium
Plant Type: Medium-
Phytophthora Gene: RPS 1K
SCN: PI 88.788
VARIETY NOTES
Consistent Winner!

National placement line with a really solid all around offensive and defensive package!

Good standability. This is a bean that often finishes well with clusters on top.

BSR, SCN, K gene for phytophthora, and above average white mold tolerance.

Average IDC.

Utilize Saltro if planting early in SDS areas and avoid the hot IDC spots.

Push the fertility, especially P & K, and manage intensively as this bean responds very well.