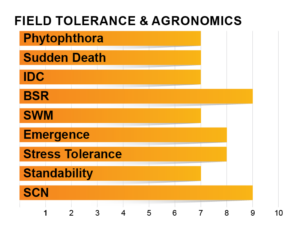 Height: Medium Tall
Plant Type: Medium
Phytophthora Gene: NONE
SCN: PI 88.788
VARIETY NOTES
Great-looking bean with yield to match! Excellent-yielding bean with a very strong defensive package. Tall bean with very good standability. Protection against white mold, SDS, and BSR.

No gene for phytophthora, but very good field tolerance.

National line that just kills it in northern IA/southern MN!

Benefits from a complete seed treatment and showed a very nice root system improvement with Alpha Complete in-furrow.

This bean will work in the variable ground as it has good stress tolerance, but the top-end yield can be reached with a strong fertility program.