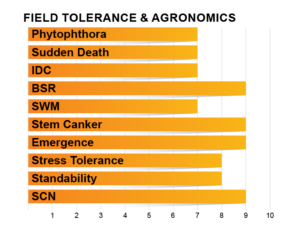 Height: Medium Tall
Plant Type: Medium
Phytophthora Gene: RPS 1K
SCN: PI 88.788
VARIETY NOTES
Defensive MVP!

Hard to find a fault with this one.

Broadacre placement in its maturity zone and north.

Excellent bean for variable variety planting as it fits almost every weakness other varieties have.

Very good white mold tolerance.

Strong yielder.

National variety.

Benefits from a complete seed treatment and showed a very nice root system improvement with Alpha Complete in-furrow.