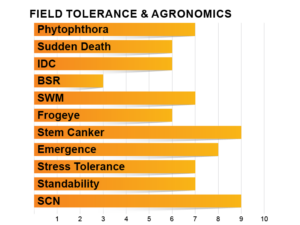 Height: Medium Tall
Plant Type: Medium
Phytophthora Gene: RPS 1C+HRPS 3A
SCN: PI 88.788
VARIETY NOTES
Exciting new bean! Excellent combination of stress tolerance,  standability and SWM protection.

Stacked resistance genes for phytophthora.
Susceptible to brown stem rot.
Highly recommend for broad acre placement across all soil types.
Great all-around bean for offense and defense.
Watch out for BSR, especially in continuous soybean fields or in fields with BSR history. Use a complete seed treatment.