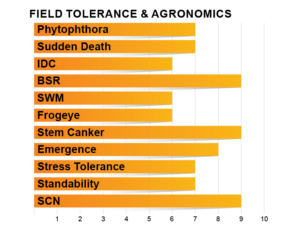 Height: Medium Tall
Plant Type: Medium
Phytophthora Gene: RPS 1C
SCN: PI 88.788
VARIETY NOTES
Aggressive yield potential! Handles stress even in tough western geographies!

Great standability, BSR resistance, PRR protection, and IDC!

Good, but not great white mold suppression.

Broad acre placement is recommended as this bean has top-end yields and a solid overall defensive package.

Very good response to added fertility, naturals/beneficial, microbes, and foliar fungicides. Use a complete seed treatment.