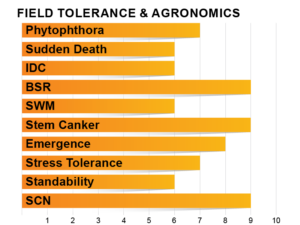 Height: Medium Tall
Plant Type: Medium+
Phytophthora Gene: RPS 1K
SCN: PI 88.788
VARIETY NOTES
Great fit for a lot of acres! Strong early vigor. Good standability. Maintains height and consistency across soil types. BSR resistant.

Good, but not great SDS and IDC tolerance.

This soybean fits most soils and tillage methods and can thrive just about anywhere. We recommend this variety for both irrigated acres and heavier soil types.

It will benefit from the addition or Saltro or ILeVO for help with SDS suppression.

Use a complete seed treatment and intensive management to achieve the best results.