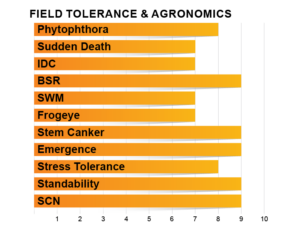 Height: Medium Tall
Plant Type: Medium+
Phytophthora Gene: NONE
SCN: PI 88.788
VARIETY NOTES
National placement line with a defensive package to handle almost any situation.

Stands like a tree and yields extremely well!

With a defensive package like this, there's almost nothing holding it back but getting enough plant food at the right time and keeping it growing fast.

Fast emergence and early canopy closure.

Maintains height well on hilly acres.

Moderate plant height and extremely consistent yield make this a leader for variable soils.