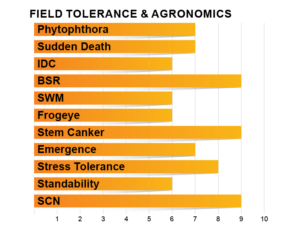 Height: Medium Tall
Plant Type: Medium
Phytophthora Gene: RPS 1K
SCN: PI 88.788
VARIETY NOTES
Plant health specialist! Yield data and agronomics recommend this variety for central (IA/IL) and eastern placement.

Good standability, consistent plant structure, and solid tolerance for SDS, PRR, and BSR. This will likely be the healthiest-looking plant you see all season long. Powerful yields in trials from Iowa to the East Coast, but we didn't get a two-year look at it in the West. Broad acre placement in full season crops and double croups. Use a complete seed treatment.

Tolerant to STS herbicides.