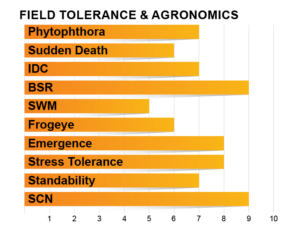 Height: Medium Tall
Plant Type: Bushy
Phytophthora Gene: RPS 1K
SCN: PI 88.788
VARIETY NOTES
Big, bushy plant with massive yields!

Handles your tough ground with excellent stress tolerance and a plant that doesn't shrink under pressure. Strong overall defense package.

Outyields all previous Enlist beans at this maturity.

Average frogeye tolerance.

Built for the tough acre. Awesome stress tolerance, wider-bodied variety that will move south well. Key yield improvement for the maturity. Responds very well to Alpha Complete in the furrow.