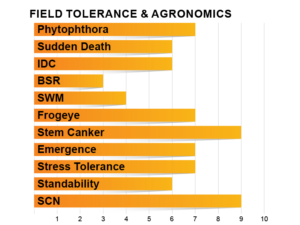 Height: Medium Tall
Plant Type: Bushy
Phytophthora Gene: RPS 1A
SCN: PI 88.788
VARIETY NOTES
Exceptional ROI variety! Top-end yield potential that responds to management in high-yield environments.

Stress-tolerant enough for western drought-prone placement. Fast canopy closure from tall, wide plant type.

Brown stem rot is susceptible and slightly below average PRR tolerance.

National placement line with solid defense. Push the fertility for max yields but manage with a lower seeding rate and foliar fungicides to improve standability and plant health.

Responds well to Saltro/ILeVO.