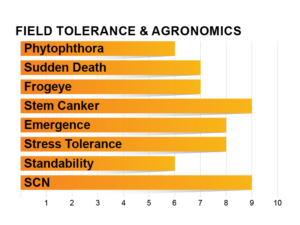 Height: Medium Tall
Plant Type: Medium
Phytophthora Gene: NONE
SCN: PI 88.788
VARIETY NOTES
Tall bean with great yield potential.

Very strong SDS tolerance with stem canker and SCN resistance.

Average frogeye rating.

Not the best fit on loams. Best fit is on clays and mixed soils.

Very good metribuzin tolerance.

STS tolerance allows rotational and herbicide flexibility.

EXCLUDER GENE provides a fit for irrigated and salty acres.

Expect better returns by pushing fertility with this bean.

Utilize a complete seed treatment to manage for phytophthora and seedling disease risk.